Homepage images courtesy of The Sydney Theatre Company Archives.
Jaime Mears and Anthony Phelan in Sydney Theatre Company's The Tempest, 2003. Photo: Heidrun Lohr ©
Sophie Ross in Sydney Theatre Company's Romeo and Juliet 2008. Photos: Tracey Schramm ©
Other images credited throughout the site. These images are not to be reproduced without the copyright holder's permission. For more information contact: info@shakespearereloaded.edu.au.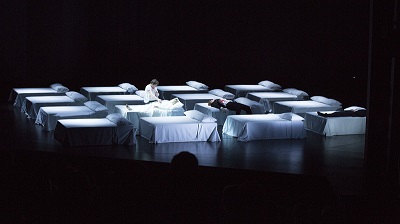 Dylan Young, Eryn Jean Norvill, Alexander England and cast, in STC's Romeo and Juliet, 2013. Photo: Grant Sparkes-Carroll ©