Experimental Digital Pedagogies
Thursday 29 October 4pm (PDT) / 7pm (EDT)
Friday 30 October 10am (AEDT)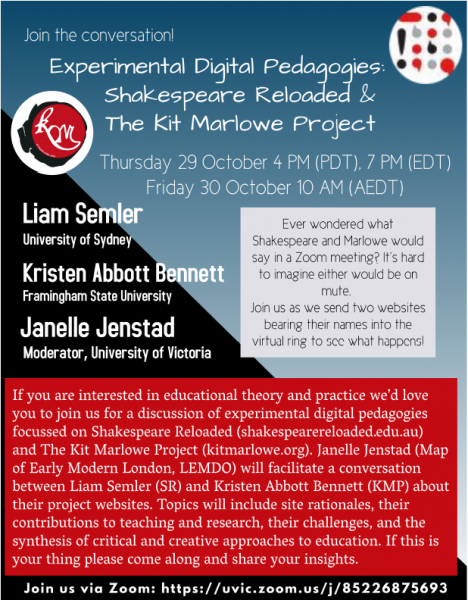 If you are interested in educational theory and practice we'd love you to join us for a discussion of experimental digital pedagogies focussed on Shakespeare Reloaded and The Kit Marlowe Project. Janelle Jenstad (Map of Early Modern London, LEMDO) will facilitate a conversation between Liam Semler (of Shakespeare Reloaded) and Kristen Abbott Bennett (Kit Marlowe Project) about their project websites.
Topics will include site rationales, their contributions to teaching and research, their challenges, and the synthesis of critical and creative approaches to education. If this is your thing please come along and share your insights.
Join the Zoom conversation here: https://uvic.zoom.us/j/85226875693.