Ecological Shakespeare in Performance
Ecological Shakespeare in Performance is a one-day event exploring Shakespeare and Australian environments.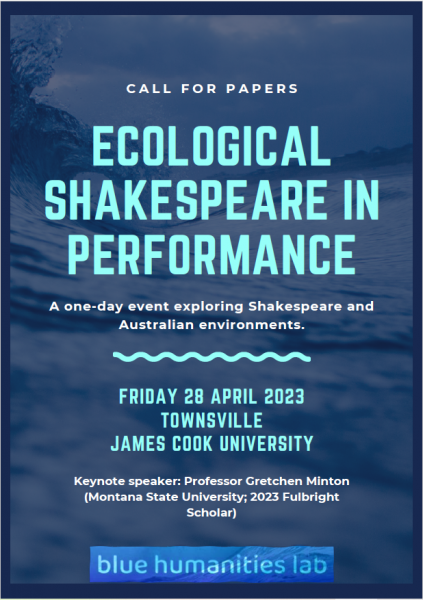 ~~~~
When: Friday 28 April 2023
Where: James Cook University - Townsville, Queensland, Australia
Keynote Speaker: Professor Gretchen Minton (Montana State University; 2023 Fulbright Scholar)
~~~~
This one day event will feature a keynote presentation, short performance, presentations, interdisciplinary guest speakers and workshop time.
Registration is free and includes lunch and dinner.
Proposals are welcomed on topics including:
Shakespeare and ecocriticism

Blue Humanities

Shakespeare in performance

Australian Shakespeare adaptations

Environmental theatre

Creative projects
Please submit your 250 word proposal and a short bio by 31 January 2023 to Dr Claire Hansen (Claire.Hansen@anu.edu.au) and Professor Gretchen Minton (Gretchen.Minton@montana.edu).